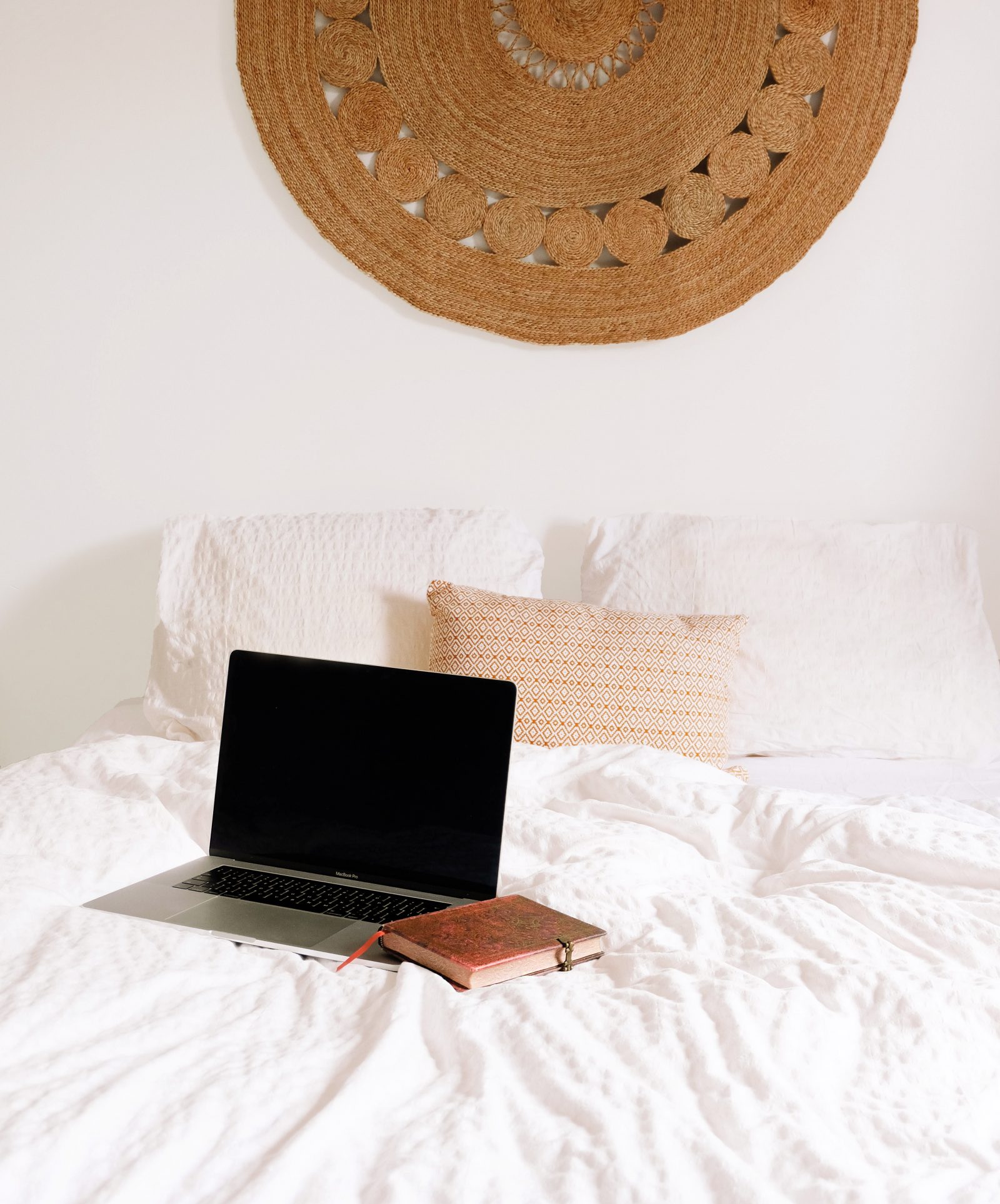 Many companies are implementing working from home policies during the pandemic. If you are not used to working from home this can be a big challenge. You have to find a new routine to stay productive and on top of your things while working from home. Besides that you now miss the social contacts with your colleagues, which can also be a challenge for a lot of people. Luckily there are also a lot of positive sides on working from home! For example, you won't have to deal with traffic, you don't have any distractions and you can make your own schedule. I work from home on a regular base for years now and I know what works and what doesn't work for me now. In this post I share my working from home tips with you:
It can be very tempting to sleep in for a bit while working from home. What helps me to stay productive and on top of my work while working from home, is starting my work day at regular office hours. For me that's usually around 8 a.m. I know that I need about an hour to get completely ready, so that means setting my alarm at 7 a.m. Waking up at the same time everyday also really helps you to get in a routine.
Getting dressed makes you feel human and confident and it also helps to draw a line between working and being at home. So instead of opening your computer in your PJ's, take a shower and get dressed! You obviously don't have to dress as formally as you might for work, but the act of changing clothes already gives a signal that it is time to get in some work. Also if you have video calls for work it is a must to look decent and presentable. I usually take a shower, do my skin care routine, put on minimal make up (a bit of concealer, eyebrow pencil and mascara) and put on comfy pants and a sweater.
A clean and organized work space without distractions is really important! It keeps you more productive and it also keeps your work and home lives separate. Maybe you have a separate room in your house that you can turn into your office. In this way you can literally close the door when your done with working. If you don't have a separate room you can also use your dining table as a desk. Make sure the table is clean and you have all your essentials within reach. When your work day is done, put away all your work essentials in a closet. In this way you create a visible line between workday and relax time.
Be extremely clear about when you're working and when you're free. This is also really helpful in keeping your work life and free time separate. I already told you that starting your workday on the same time everyday is very important, but this actually counts for your whole day. Make a schedule with the time you start working, the times you take a break and the time you are done working. Let's say you have a 8-hour workday. For example you start your workday at 8 a.m. At 11 a.m. you take a 15 minute break and at 12:30 p.m. you have a 30 minute lunch break. At 3 p.m. you take another 15 minute break. This means your workday ends at 5 p.m. You can obviously set your own hours, but try to really stick to it on a daily base.
To prevent yourself from feeling lonely while working from home, schedule time to interact with your colleagues. You can schedule (video) calls with your co-workers or chat with them via Slack for example. And when you're on your lunch break you can also call a friend or a family member to catch up on. You can also set your phone on Facetime in front of you for a couple of hours and "work together" from home with your favorite colleague.
This one is a must for every work day, not only if you are working from home. A to do list helps you to stay productive and do the tasks that have the highest priority. Grab a notebook and a pen and start your work day with writing down all the things that you need to do. Once you finish a task you can mark it off. Having all my to do's marked at the end of the day also gives me a really satisfied feeling. TIP: Besides writing my daily to do's and ideas in a notebook, I also like to use a deskplanner. I use my deskplanner as an agenda in which I write down all my big tasks and appointments. The planner that I use at the moment is the Lifestyle Planner from Supplied By Lily.
What helps you to stay productive while working from home?
P.S. Want to stay organized? I wrote a post about how to organize your life and mind.