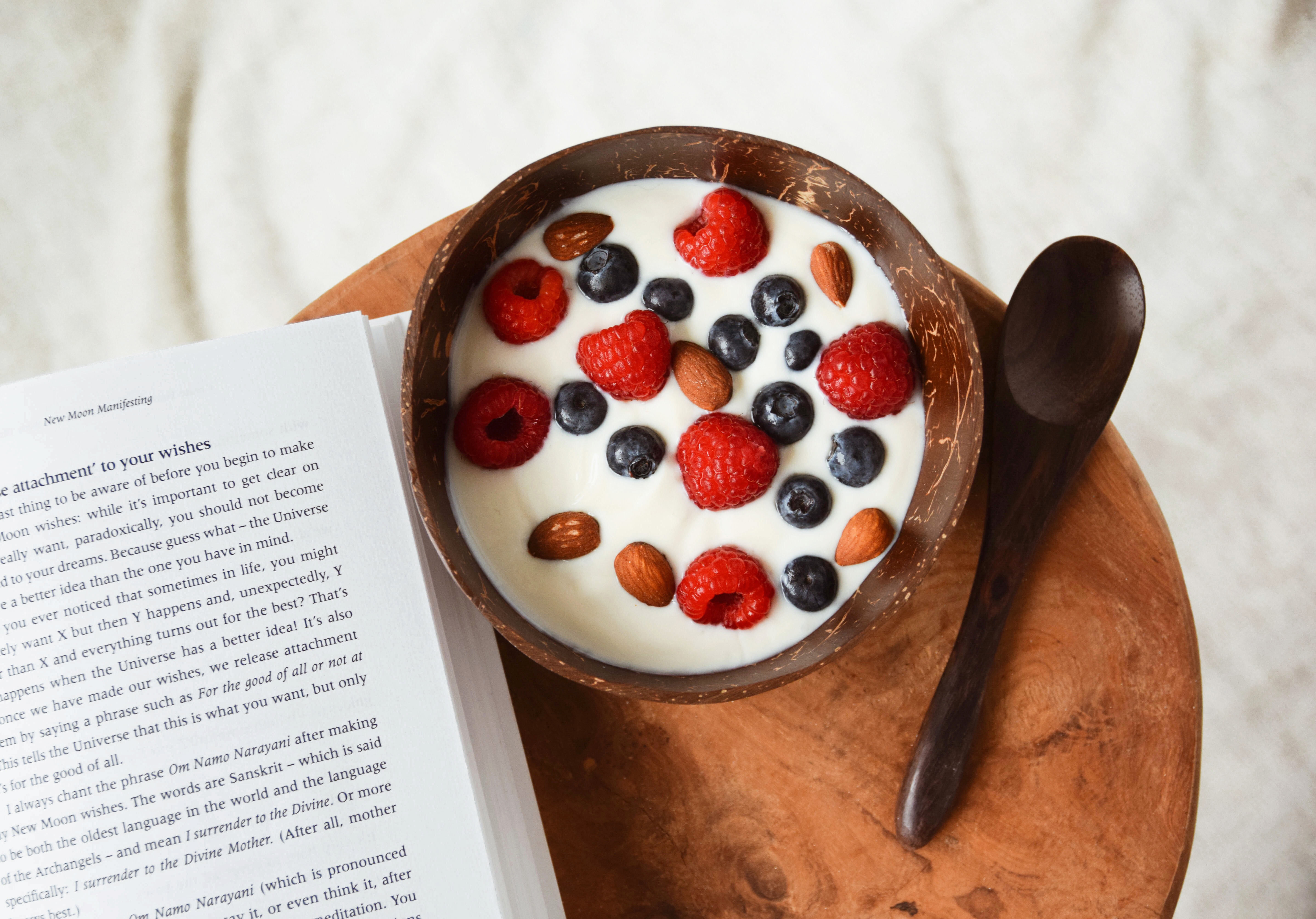 Eating a healthy and plant-based diet doesn't have to be difficult! You can find so many wholesome, delicious and affordable foods in your local grocery store, like seasonal fruits, nuts and veggies. And we all know, a kitchen stocked with good foods is essential for eating a healthy diet. When you're making the transition to a healthier and more plant based lifestyle it can be hard to make the right choices while grocery shopping. Over time I learned which foods I need in my kitchen for making wholesome meals. And I think everybody should have these items in their kitchen when they want to feel good in their body. So, here are my favorite healthy food staples you should always have in your kitchen:
Seasonal fruits
Fruits are a good source of vitamins and minerals. And the best part: they are so delicious! I like to have them for breakfast, as a snack and in smoothies. I always like to go for seasonal fruits because they are cheaper, fresher with a higher nutritional value, more environmentally-friendly and they just taste better.
Bananas
I ALWAYS have bananas in my kitchen, no matter what season it is. I use them as a base for smoothies and smoothie bowls and I also like to use them for baking.
Nuts
Nuts are super healthy due to their fatty acid profile,
nutritional properties and bioactive constituents. They even have been found to be useful in preventing many diseases. Besides that, I really like the taste of them. I usually go for almonds and I like to snack on them throughout the day or I have them in my morning yoghurt.
Mais crackers
When I'm not feeling like making an extensive snack or lunch I usually go for mais crackers. I have them with some hummus or nut butter. Yummie and easy!
Dates
If you're craving something sweet and you don't want to go for unhealthy cookies, dates are your best friend! I like to eat them on their own with some nut butter or I use them in my favorite and healthy chocolate smoothie (click here for the recipe).
Oats
Oats are the healthiest grains on earth. They are a great source of vitamins, minerals, fiber and antioxidants. I like to have them for breakfast or use them for baking.
Vegetables
I mean, we all know that we need to at lots of veggies. It helps reduce the risk of many diseases and they are rich in vitamins and minerals that help you feel better, healthy and energized. Some of my favorite veggies: lettuce, broccoli, tomatoes, spinach, bell pepper, mushrooms, cucumber and kale.
Chia seeds
Chia seeds are high in fiber, protein and omega-3s. I use them in smoothies or yoghurt. I also like to make chia puddings with it from time to time.
Avocado
Avocados are super-nutritious! I like to have them in salads, make guacamole with them or have them on a mais cracker.
Plant based yoghurt
I always like to have some plant based yoghurt in my fridge. I usually buy the natural Alpro Yoghurt and I like to eat it with some seasonal fruits and nuts for breakfast. Yum!

Beans and legumes
Beans and legumes are rich in fiber, iron, plant protein, B-vitamins, calcium and zinc. My favorites are black beans and chickpeas and I like to eat them with quinoa and veggies for dinner.
Quinoa
Quinoa is high in protein, fiber, magnesium, B vitamins, iron, potassium, calcium and vitamin E. I like to have it with veggies and beans for lunch or dinner.
Herbs
You need herbs to give your meals extra flavor. My favorite herb is basil!
Plant based milk
I always need to have some plant based milk in my fridge! I use it in my smoothies, oats and coffee. My favorites are almond milk, coconut milk and oat milk.
What are your healthy food staples?