I get a lot of questions from people about how I stay healthy and fit: what do I eat and what type of workouts do I do? First of all, I want to say that I absolutely don't see myself as a "fit girl". Yes, I do like to look a bit "toned" but other than that I don't have any physical goals. My goal with healthy eating and exercising is to feel better mentally. It makes me feel more energized, motivated and overall happy. So, with that being said I thought it would be fun to share daily, weekly and monthly updates with the things I did to stay healthy. So things like "what I eat in a day" and what workouts I did on a day. But also what I read that week or what kind of self care things I did. Anything that makes me feel healthy and good about myself! Lets start Get Fit With Me #1: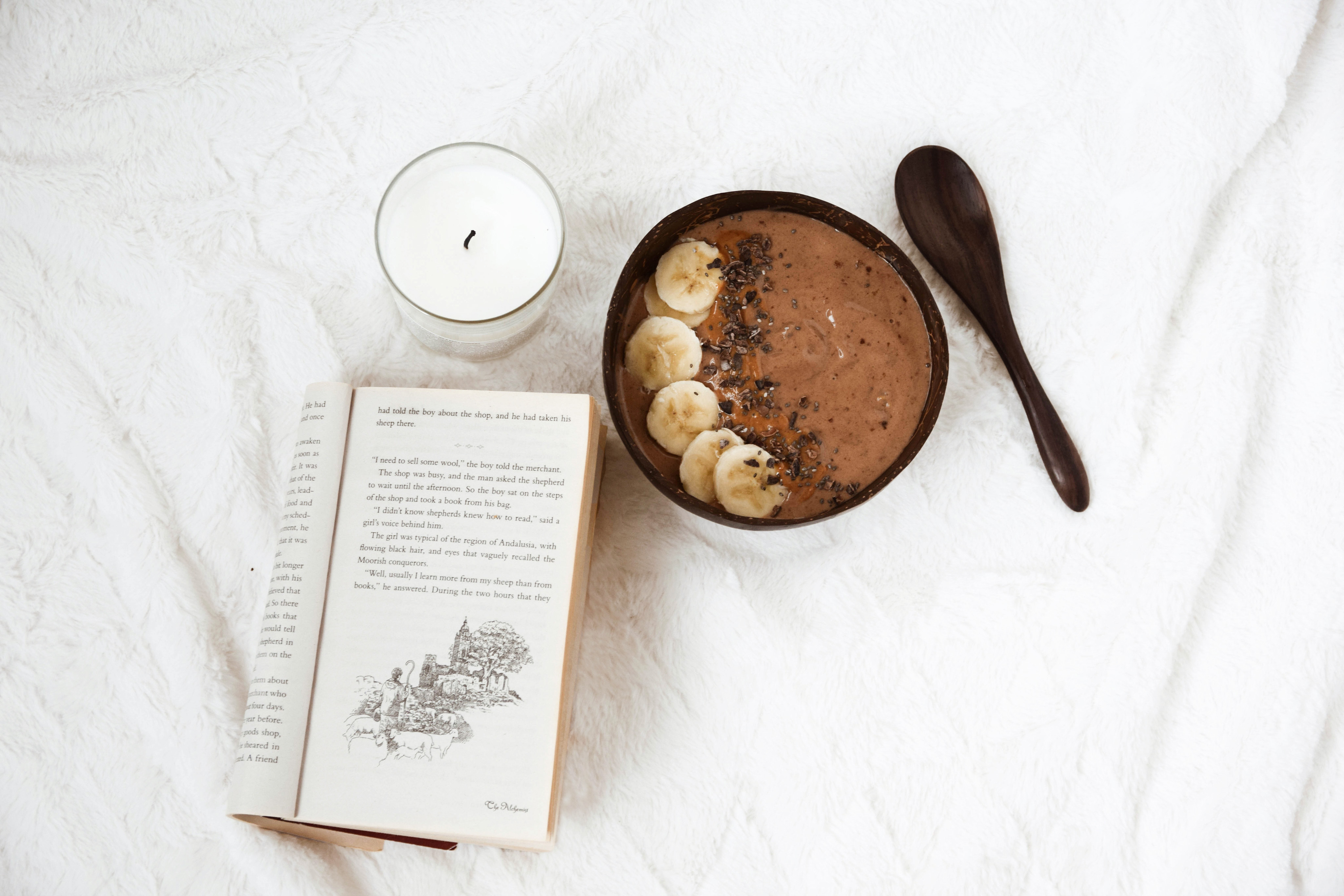 28 January – 1 February
Workouts
My goal for the new year is to go to the gym 5 / 6 times a week, so that's what I did this week. At the gym I usually start with a 5 minute cardio work out on the treadmill or bike. After that it's time for weights! I switch between upper body days and leg days. I end my work out with a 30 minute cardio session. I usually train for about an hour / hour and a half.
What I eat in a day
I don't eat the same everyday of course, but I thought it would be fun to share a "what I eat in a day" with some of the meals I had last week:
Breakfast – Banana, date smoothie bowl
1,5 frozen banana
2 dates
1 tbsp peanut butter
1 tsp cacao powder
1 tsp flax seeds
Blend everything together and top it off with anything you like! I like to top my smoothie bowls with nuts, fruit, cacao nibs and peanut butter.
Lunch – Mais crackers
For lunch I like to have 4 mais crackers with hummus, avocado, tomatoes and cucumber. Super easy to make!
Dinner – Veggie bowl
Quinoa
Black beans
Mais
Paprika
Edame beans
1/4 avocado
Cucumber
Tomato salsa
Cook the quinoa and bake the black beans, mais and paprika. Put everything in a bowl and voila, your easy and delicious veggie bowl is ready to eat.
Snacks
For snacks I like to have fruit, smoothies, dates with nut butter, nuts, bliss balls and mais crackers.
Self Care
I started reading a new book this week: The Inner Beauty Bible. The Inner Beauty Bible is all about nurturing your beauty and wellbeing from the inside out. If you like mindfulness and rituals, than I highly recommend this book.
How do you stay fit?!