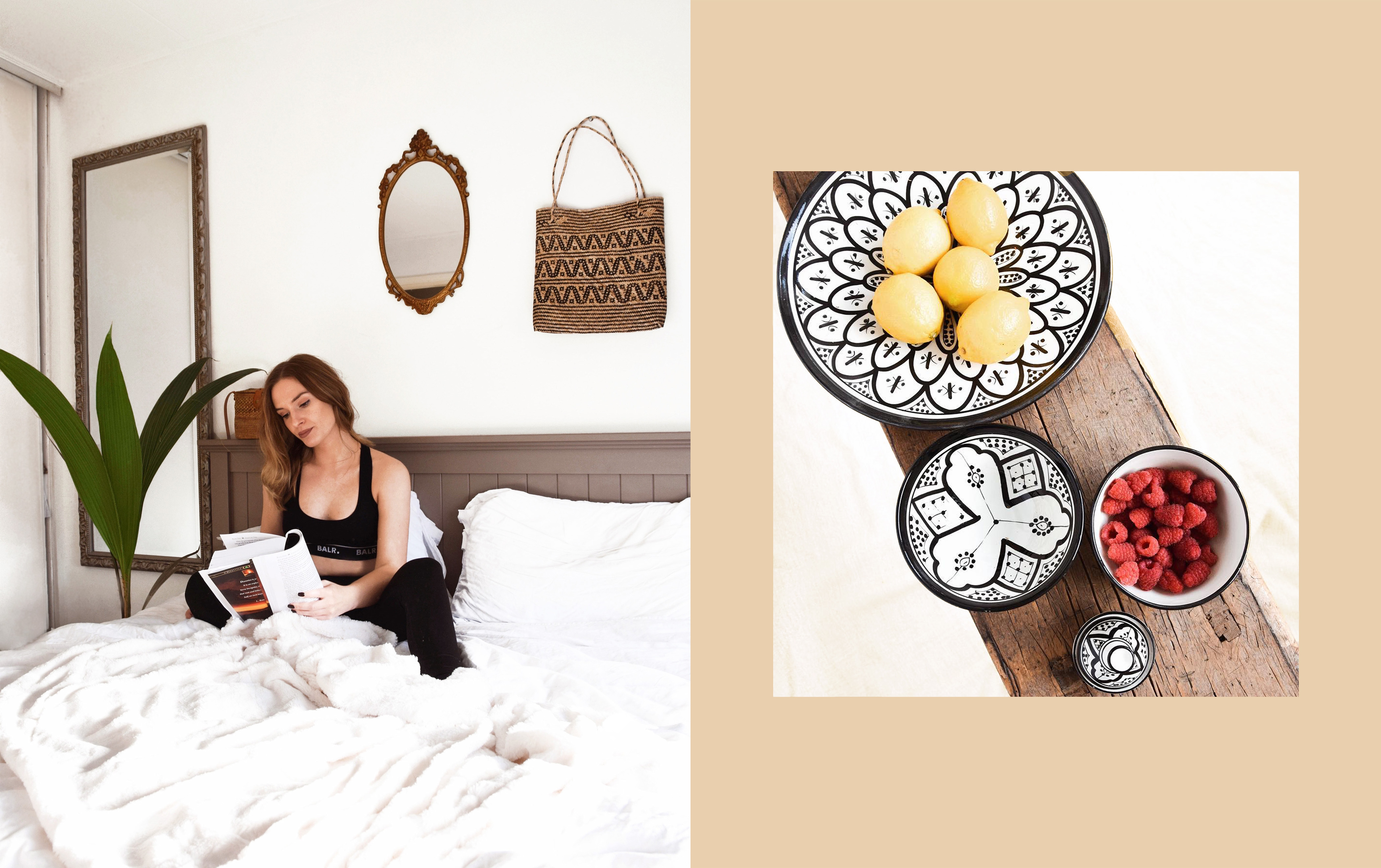 Living a healthy and active lifestyle doesn't have to be hard. It's all about replacing your old habits with new healthy habits. You don't have to go for a 2 hour gym session everyday and you also don't have to spend 3 hours in the kitchen to make yourself a healthy and wholesome meal. Over time I incorporated some small healthy habits into my day to day life that really made a change for my health and my well-being. Here are 5 healthy habits to add in your daily life:
1. Move that body
Like I said, you don't have to go to the gym every single day but I do think that it is important to move your body everyday. You can go out for a walk with a friend or instead of taking the car to the grocery store go with your bike. Or you can follow a yoga class or a dance class. Just make sure to move your body! Especially when you're working in an office it's so important to incorporate a 30 minute light activity into your daily routine.
2. Eat more greens
Greens are packed with healthy vitamins! They give you energy and they are good for your overall health. There are thousands of different types of vegetables, so big chance there is something you find tasty. You can have a salad with for example lettuce, cucumber, tomatoes for lunch. Or you can make yourself a veggie bowl with broccoli, paprika and spinach for dinner. Just try out some greens and find out what you like! You can also add some greens like spinach into a fruit smoothie. In this way you don't even taste the greens!
3. A smoothie a day
Smoothies are a great way to take in your daily vitamins. They are filling, tasty and super healthy. All you need is a blender and lots of fruit and veggies. A blender doesn't have to cost a lot of money. You have a lot of cheap blenders at the drugstory who do their job well. I usually have a smoothie for breakfast but I also like to make a smoothie when I'm craving something sweet as a snack. For the ingredients you can use anything you like. I always use bananas and almond milk for my smoothies. But for the other ingredients I alternate with the things that I have in my kitchen at that moment. I like to add in some spinach, dates, cacao powder, flax seeds and frozen berries for example. Click here for my favorite chocolate peanut butter smoothie.
4. Eat less processed foods
We all know that processed foods aren't the healthiest foods for us. So instead of buying a box with cookies, make your own healthy cookies. You can find a healthy and clean recipe for all the processed foods in the world. And again, this doesn't have to take a lot of time. You can make a batch of bliss balls on a Sunday for example and enjoy them throughout the week.
5. Nighttime routine
Don't underestimate the power of a good night's sleep! Sleep pays a vital role in your health and well-being. A good night's sleep help protect your mental health and physical health. If you have trouble with sleeping a nighttime routine can make a big difference. Try to slow down at least an hour before you go to bed. Read a book, have a cup of tea and put on your PJ's. Stay away from your phone and laptop and really take the time to slow down. Click here for my nighttime routine for a good night's sleep.
What are your healthy habits?